How did patients respond to
treatment with XPOVIO® (selinexor)?
In the clinical trial, 134 adults with relapsed or refractory diffuse large B-cell lymphoma (RR DLBCL) were treated with XPOVIO 60 mg on Days 1 and 3 of every week. The FDA approval was based upon the results of this trial, and additional trials may be needed.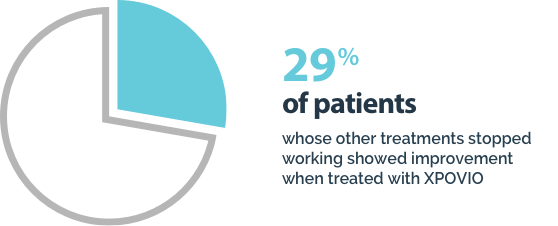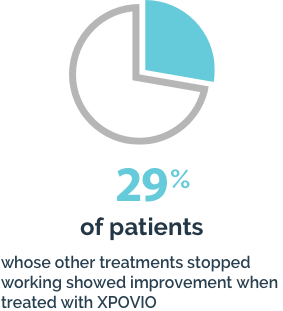 Response to XPOVIO was evaluated in patients regardless of status (n=39):
Their age
The number of treatments they had taken before
The type of diffuse large B-cell lymphoma (DLBCL) they have
If their DLBCL had stopped responding to other treatments
If they had previously had a stem cell transplant
XPOVIO has been shown to work when taken by itself in patients with RR DLBCL.
Patients who responded did not need to take XPOVIO with another anti‑cancer medicine.
How long did responses to XPOVIO last?
Patients who responded to XPOVIO had a rapid and meaningful response.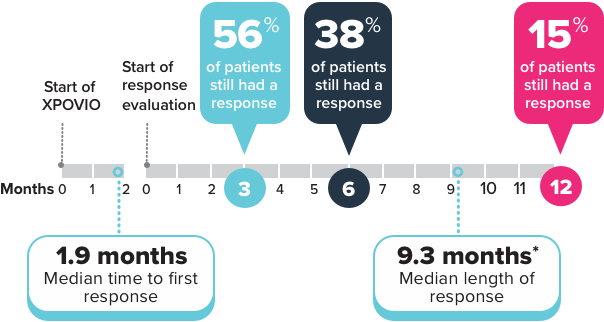 *The median duration of response (DOR) was a prespecified secondary outcome, determined by a particular statistical analysis. Limitations to this analysis for the data from this study include a small number of patients and the effect of data from patients with prolonged remission durations. Approximately half of the responders in this analysis had a DOR lasting less than 3 months.
The analysis of DOR is presented alongside an analysis demonstrating the number of patients responding at certain timepoints (3, 6, 12 months).
The median number is the middle point of a set of numbers, in which half the numbers are above the median and half are below.