What support and resources
are available?
KaryForward is a patient support program by Karyopharm Therapeutics® Inc. dedicated to providing assistance and resources to you and your caregiver for XPOVIO® (selinexor).
The KaryForward program is here to help you every step of the way with your treatment journey. We can assist you with:
Insurance coverage*
Understand your benefits
File claims
Provide support during insurance appeals
Find out what is covered by your insurance
Access Karyopharm medications, even if there are unexpected delays or interruptions
Financial assistance
Qualify for the XPOVIO Copay Program and pay as little as $5 for each XPOVIO prescription
OR
If eligible, get XPOVIO at no cost to you
Resources and support

You'll have access to a dedicated Nurse Case Manager who can:
Provide personalized support and education during treatment
Provide prescription instructions
Offer psychosocial support and additional nonclinical education
Highlight what to expect when taking Karyopharm medication and the importance of talking to healthcare providers about the treatment journey
Determine if additional third-party support is available such as transportation assistance
*Reimbursement Specialists are available to answer questions about the insurance approval process.
If you're ready to enroll or have questions about KaryForward, visit
KaryForward.com
or call
1-877-KARY4WD
1-877-KARY4WD
(1-877-527-9493), Monday through Friday,
8

am
to 8
pm
ET
How do I take care of myself when I'm caring for someone taking XPOVIO?
The physical and emotional demands of being a caregiver can take a toll over time
You may experience:
Exhaustion
Getting sick more often
Losing sleep
Irritation
Tips for caring for yourself include:
Consider finding a support group online or in your local area, or connect with people who understand what you may be going through


Learn about a variety of support groups

If you have questions or support needs, talk to the nurse, social worker, or your loved one's healthcare provider
Consider practicing yoga or meditation to help relieve stress
Track Monthly Appointments
The Caregiver Monthly Planner helps you track upcoming appointments and important To Do's
What else should I know about caring for someone taking XPOVIO?
When caring for a person taking XPOVIO, keep in mind:
The healthcare provider will determine the dosing schedule for XPOVIO, dexamethasone, and anti-nausea medicine
Call the healthcare provider if your loved one experiences any side effects
The healthcare provider will do blood tests before your loved one starts taking XPOVIO, often during the 3 months of treatment, and then as needed
Encourage your loved one to drink lots of fluids and eat nutritious food while on XPOVIO
Join the KaryForward Support Program and you and your loved ones will receive:
Helpful caregiver resources
XPOVIO Patient Education Starter Kit
Personalized support from Nurse Case Managers
Information about financial resources
Helpful tools and resources
Whether you're living with relapsed or refractory multiple myeloma (RRMM) or supporting a loved one with RRMM, it's important to remember that you're not alone. There are a number of valuable resources and organizations available to help. Use the following materials and links to get the support you need and deserve.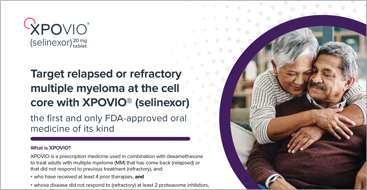 Patient & Caregiver Brochure
Get information about treatment with XPOVIO
Download [English]
Download [Spanish]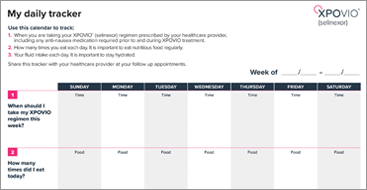 Patient Daily Tracker
A helpful tool for tracking medication as well as fluid and caloric intake
Download [English]
Download [Spanish]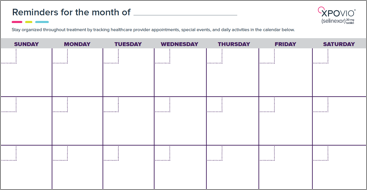 Caregiver Monthly Planner
Keep track of monthly appointments
Download [English]
Download [Spanish]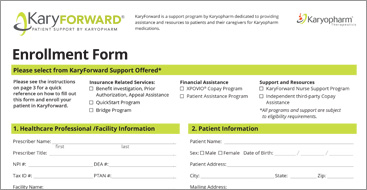 KaryForward Enrollment Form
Enroll in KaryForward, a patient support program
Download [English]
Helpful organizations and support
In addition to your healthcare team, the following organizations may be helpful resources.
Multiple Myeloma Resources
International Myeloma Foundation
www.myeloma.org
800-452-CURE (2873)
Multiple Myeloma Research Foundation
www.themmrf.org
866-603-MMCT (6628)
To maintain the independence of these organizations, Karyopharm does not endorse or recommend any of the advocacy groups or services on this list and is not responsible for the content of these sites or services. Always talk to your healthcare team about any questions.