Why XPOVIO® (selinexor)?
XPOVIO is the only FDA-approved medicine of its kind that can treat relapsed or refractory multiple myeloma (RRMM) when it has stopped responding to other types of treatment (lenalidomide, pomalidomide, bortezomib, carfilzomib, and daratumumab).
XPOVIO is taken orally and travels through the body to fight RRMM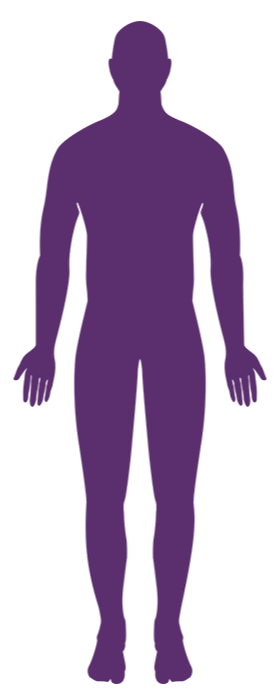 Works when other
treatments don't
You may respond to treatment with XPOVIO even if common treatments no longer work for you
Kills at the cell core
XPOVIO works at the core of the cell (the nucleus) to kill some cancer cells
---
Selinexor + dexamethasone is included in the National Comprehensive Cancer Network Guidelines® (NCCN
Guidelines®) as category 2A recommendation
for patients who have had at least 4 prior therapies and whose disease is refractory — or nonresponsive — to at least 2 PI treatments, at least 2 IMiD treatments, and an anti-CD38 mAb treatment*
IMiD=immune-mediated inflammatory disease; mAb=monoclonal antibody;
PI=proteasome inhibitor.
*Referenced with permission from the NCCN Clinical Practice Guidelines in Oncology (NCCN Guidelines®) for Multiple Myeloma. V.2.2020. © 2020 National Comprehensive Cancer Network, Inc. All rights reserved. Accessed November 26, 2019. To view the most recent and complete version of the NCCN Guidelines, go online to NCCN.org. NCCN makes no warranties of any kind whatsoever regarding their content, use, or application and disclaims any responsibility for their application or use in any way.
What is XPO1, and why does it matter?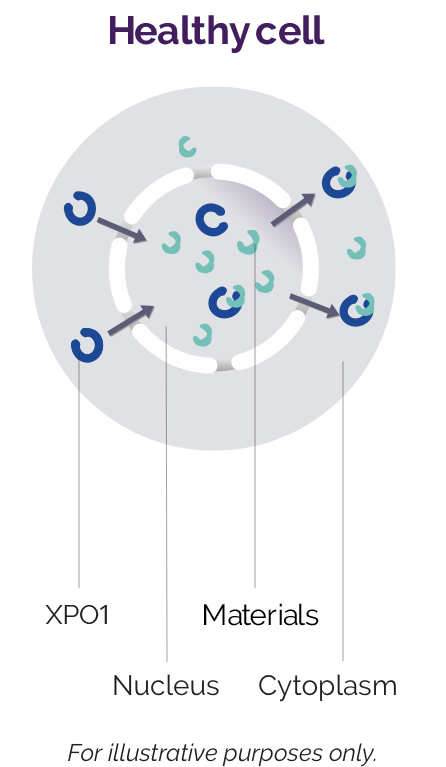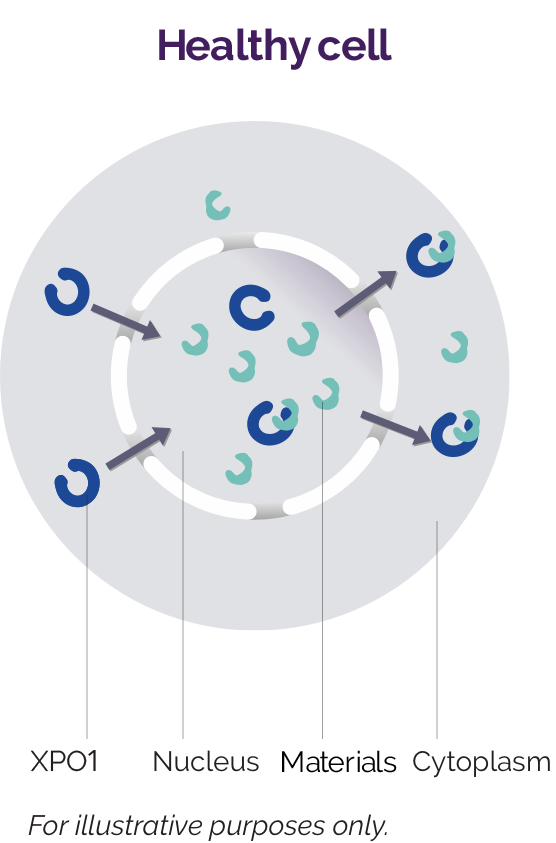 XPO1 is a protein that maintains balance in healthy cells so they can function properly
Cells have important anti-cancer materials that can only work in the cell's core (the nucleus)
XPO1 is a protein that carries these materials from the nucleus to another part of the cell (the cytoplasm)
To keep the cell balance, XPO1 only carries the right amount of anti-cancer materials out of the nucleus
How does XPOVIO work to block XPO1?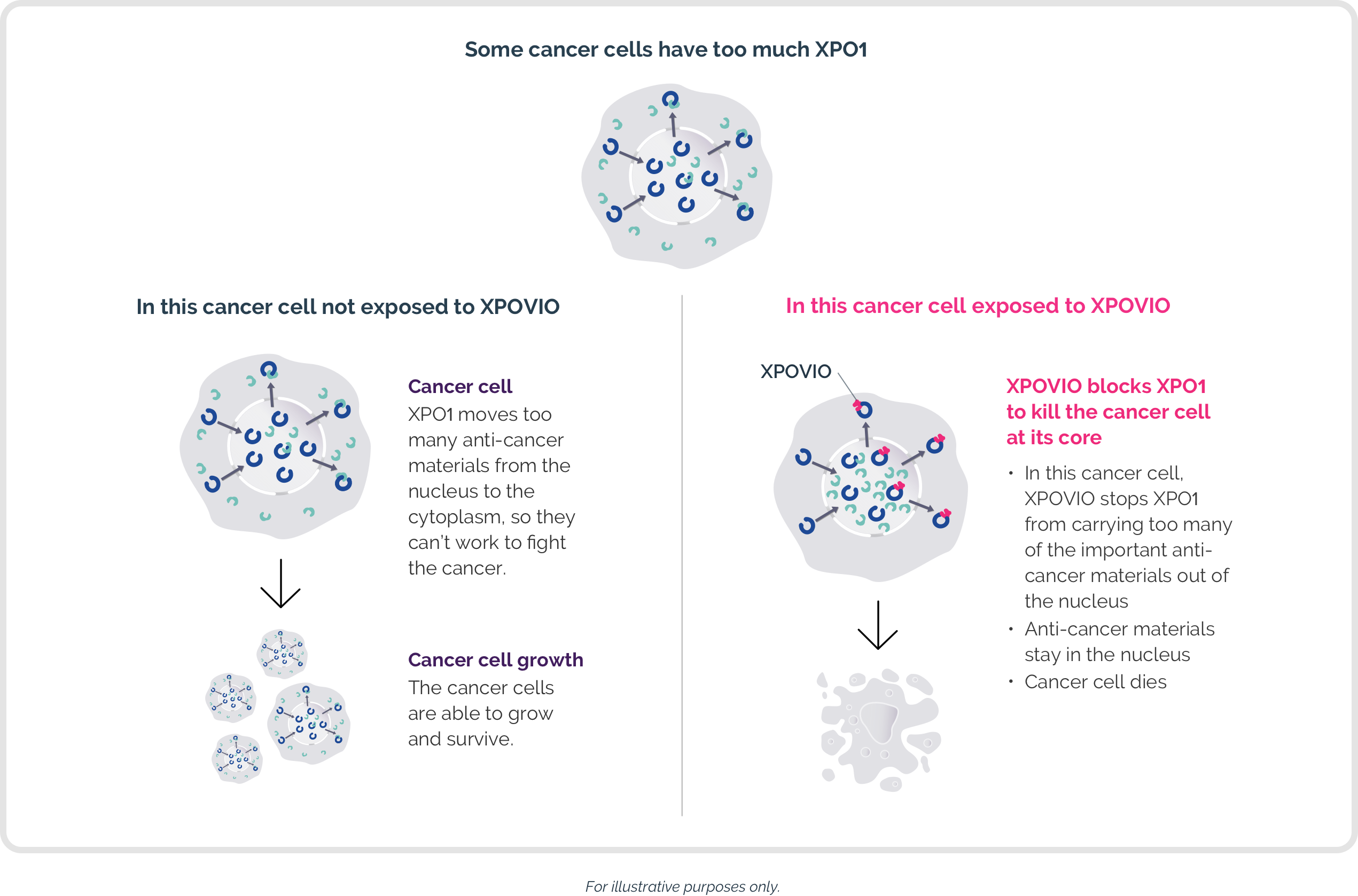 What is relapsed or refractory multiple myeloma?
Multiple myeloma is a cancer of the plasma cells, a type of white blood cell in the bone marrow
If you've been living with multiple myeloma for some time now, you probably know a lot about the disease. You've been through periods of disease remission and relapse, and you may be refractory to some treatments.
Multiple myeloma
These cancerous cells make copies in the bone marrow
When too many copies of the cancerous cells are present, it can lead to damage in the body and symptoms can increase over time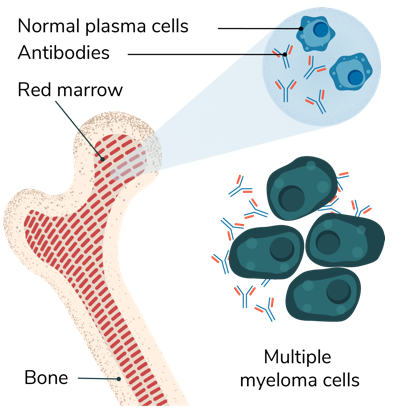 For illustrative purposes only.
Adapted from illustration created for the National
Cancer Institute. © 2014 Terese Winslow LLC.
Over time, multiple myeloma may become refractory to many different types of treatments. When this happens, your healthcare provider may start you on another type of treatment
Remission

The disease has responded to treatment. Your lab tests show improvement, and symptoms get better or go away

Relapse

The disease is once again active, and symptoms may return

Refractory

The disease does not respond to a treatment or you relapse
within 60 days of stopping the treatment
Relapsed or refractory multiple myeloma can be challenging to treat when the disease has stopped responding to multiple types of therapies